This is a new one for us in e-mail.  We see this almost every day from paper mail but never e-mail.  This is a straight-forward scam that your domain is expiring and you must renew it.  Now or it'll be terminated!  Your domain probably isn't expiring and you should definitely not visit this shady site to renew it.  As always, if in doubt, contact your vendor using their known phone number or contact us to check it out.  How did the scammers get your e-mail address and know you own this domain?  In most cases they just lookup domain owner information from sites like WhoIs.SC that openly provide this information.  Sometimes they'll also spam any forms you have on your website as they know that'll go to someone that'll have to read it.  Their hope is you'll panic, click their link, and give them money for services they're not providing.
The Scam E-Mail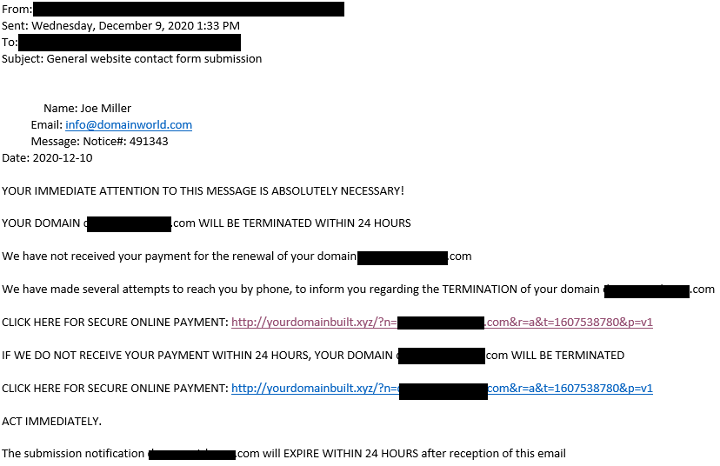 Identifying Traits
Incorrect domain.  We have this one blurred out because it spoofs the client's e-mail address.  It's unlikely you're e-mailing yourself about your domain expiring.

Lacks any branding.  Vendors are picky about their brand and their company name.  This one has none.  Likely they're hoping you overlook this as they don't know who you have your domain through.  This information is available but requires effort for the scammer.

No phone number.  For billing it's almost guaranteed the vendor will want to make it easy for you to contact them.  Phone, e-mail, website.

Domain doesn't match e-mail domain.  This scam claims to come from DomainWorld but the links point to YourDomainBuilt.XYZ.
What It Does
Interestingly this scam does nothing at all.  We tried to visit the website listed using our lab computer but the site is down.  Someone else probably reported it and the webhost took the site offline.  This doesn't mean you should be complacent that others will remove harmful websites before you visit them, though.  Stay vigilant, check the identifying traits, and call the known vendor if in doubt.